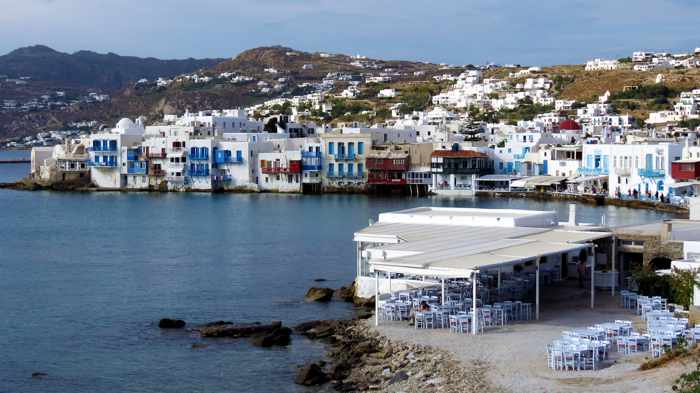 A view of the Little Venice seafront of Mykonos Town
— Updated on April 12 2022 —
The Island of the Winds: Much like the dry Meltemi winds that blast the island every summer, the winds of change blow strongly on Mykonos, bringing a flurry of brand-new hotels, restaurants, bars and shops for each fresh travel season.
This cycle of constant change and renewal is an integral part of what makes Mykonos so vibrant, exciting and enthralling – it ensures there are always plenty of new places popping up where visitors can explore and enjoy the latest Greek and international trends in design, decor, fashion, food, drink and entertainment.
Here are snapshots of some of the notable changes and newcomers that Mykonos visitors will discover during the 2022 travel season.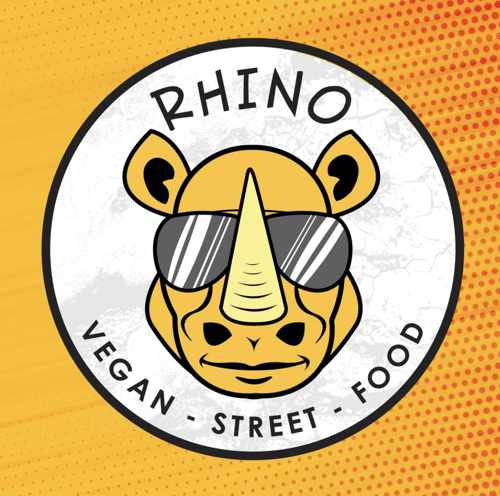 April 15 is grand opening day for Rhino Vegan Street Food, located at 3 Riga Feraiou street in the heart of Mykonos Town. Rhino's goal is to promote sustainable and healthy eating; and as the shop says on its social media pages, "We hope to show people that a vegan lifestyle can be lived casually and effortlessly, and it can taste great too!"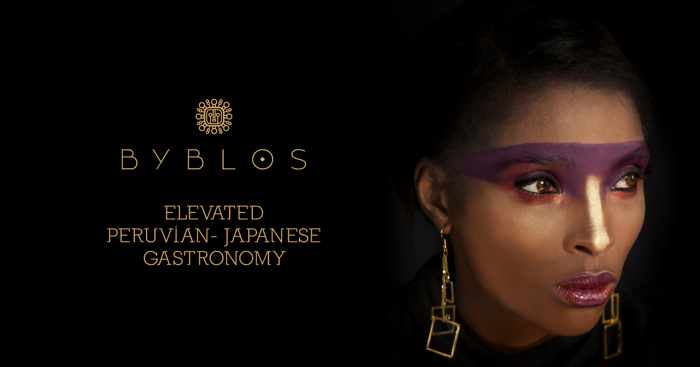 Slated for a May opening in Mykonos Town, Byblos is an opulent new restaurant offering "elevated Peruvian-Japanese gastronomy"
Brunello Cucina e Vinoteca will be bringing "a little bite of Italy" to its soon-to-open restaurant in the Mykonos My Mall in Ano Vrisi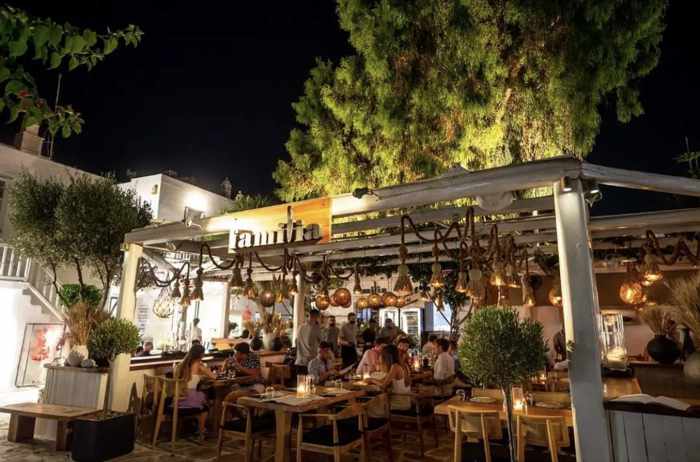 Change is coming to Goumenio Square in Mykonos Town this May, where the popular meat and meze restaurant Familia will be replaced with a new high-end burger joint operated by Nusret Gokce (better known as celebrity chef/butcher Salt Bae), who brought his world-famous Nusret steakhouse to Mykonos in 2019. Details are scarce — since Salt Bae prefers to keep his business plans secret — but word on the street is that the restaurant's cheapest gourmet burgers will be priced from €40 to €45.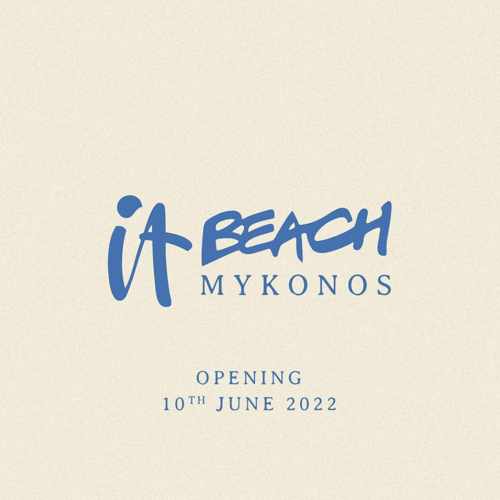 In 2021, the IT Restaurants Group opened IT Mykonos, in the Drafaki district on the edge of Mykonos Town. This year the chain is expanding with another Mykonos location, this time at Paradise beach. The new IT Beach Mykonos is scheduled to open on June 10.

A new arrival at Super Paradise beach this summer is the Paraj restaurant, bar, boutique and beach club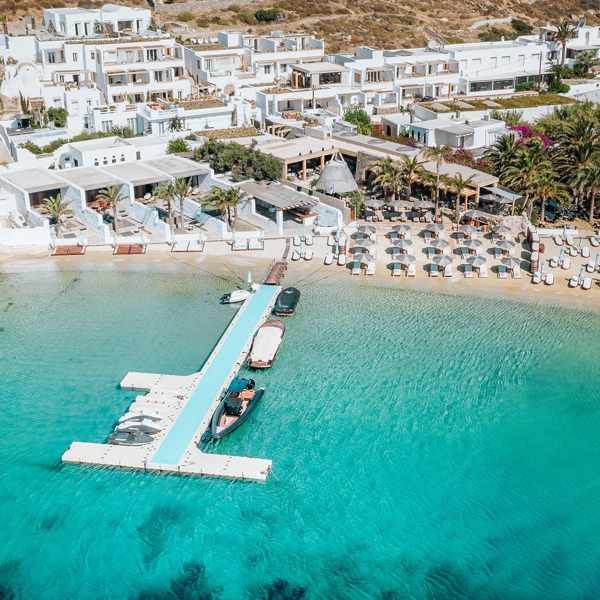 Big changes appear to be afoot for the luxe Kensho Psarou hotel and villa property at Psarou beach. We'd been wondering what was going on when we noticed the Kensho Psarou website and social media pages were no longer accessible. Then, we discovered Greek media reports saying that businessman Petros Stathis reached an agreement to purchase the hotel in early April. Plans for the hotel have not yet been announced, but news media said Stathis likely will be undertaking renovations to the site. It's not yet known what the hotel will be called, or whether it will be open this season. We will update this post once further information is available.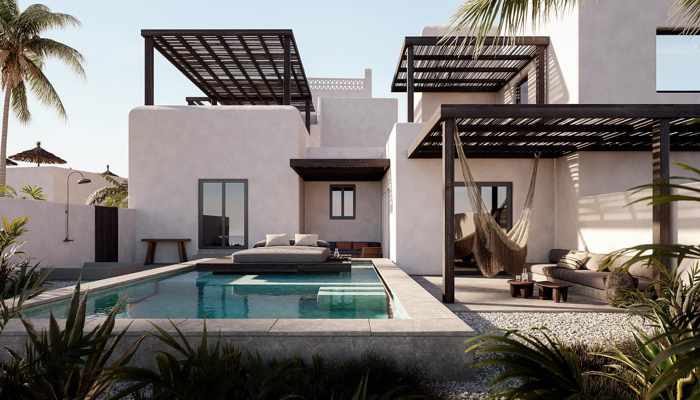 The Casa Cook hotel collection is expanding to Mykonos this year. In June, it will open Casa Cook Mykonos, an "intimate boutique retreat" with 26 luxury rooms and suites on a "village-like" property. Located on the Aleomandra peninsula south of Ornos and Agios Ioannis, the hotel has views towards Delos island.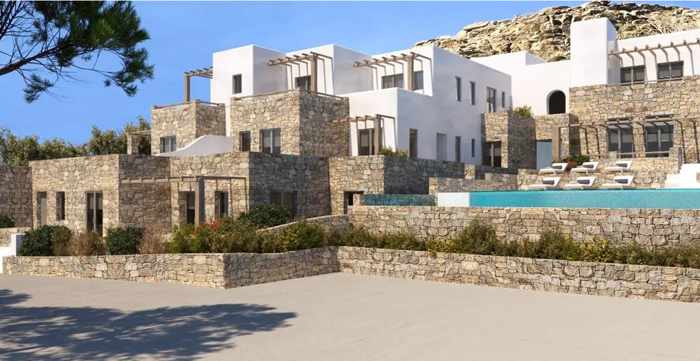 May 1 is opening day for the brand-new Arocaria Hotel in Pigados (an area that's walking distance to Mykonos Town, Tourlos beach, the New Port, and Agios Stefanos beach). Arocaria has 16 rooms and suites, some with their own pools, and its amenities include a main swimming pool, bar, restaurant and spa.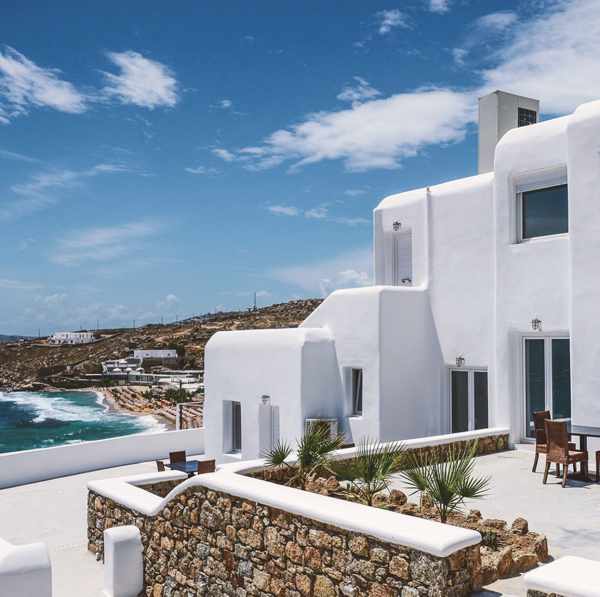 A new resort is coming to Paradise Beach this summer. The aptly-named New Paradise Beach Resort will boast a beachfront pool venue, seaview rooms with plunge pools, and a restaurant and bar. The official opening date is not yet available.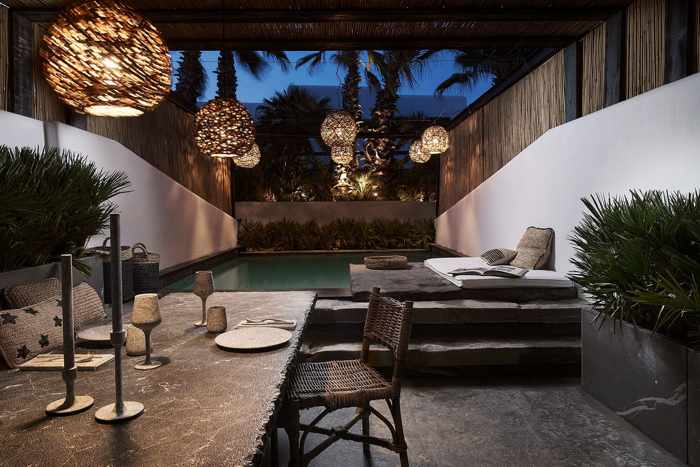 O by Myconian Collection is a luxury beachfront hotel with 63 rooms and suites opening at Ornos on May 10. It's the 11th property of the Myconian Collection, a chain of 5-star hotels owned and operated by the Daktylides family of Mykonos (some of their Other hotels and resorts on the island include the Myconian Ambassador, Imperial, Avaton, Panoptis Escape, Utopia and Myconian Villa Collection). Myconian O's facilities will include a spa, the Oasis pool and its beach & pool bar, Obar, and the Baloo fine dining restaurant.
Lovia Mykonos is a new luxury hotel expected to open this season. Located on a hillside overlooking Mykonos Town, the hotel will offer private infinity pools and hot tubs, a spa, gym, billiard hall and open-air cinema. The opening day has not yet been announced.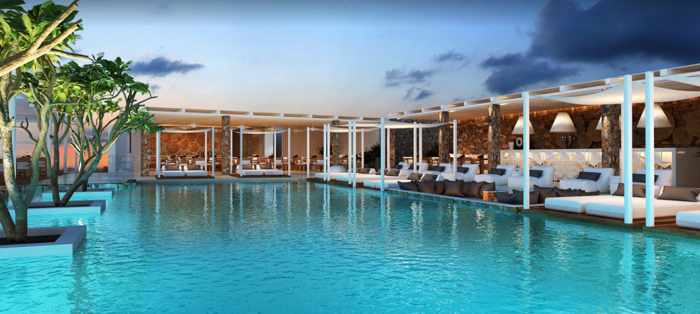 Originally slated to open last summer, the 5-star Once in Mykonos Luxury Resort at Ornos is scheduled to open its doors on May 10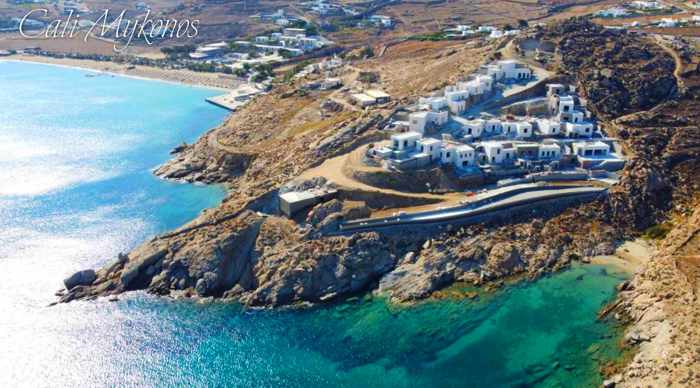 Opening this summer on a clifftop near Kalafatis beach, Cali Mykonos is a boutique resort comprised of 40 villas (each with its own private pool), a Mediterranean restaurant and a 110-meter infinity swimming pool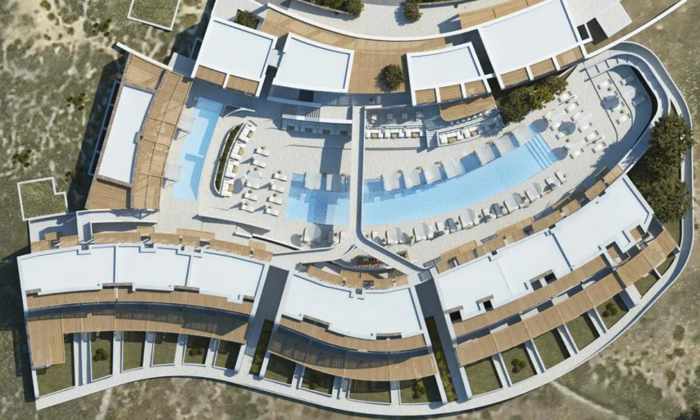 Yi Hotel is a 5-star boutique hotel scheduled to open this year in the Livadakia district near Elia beach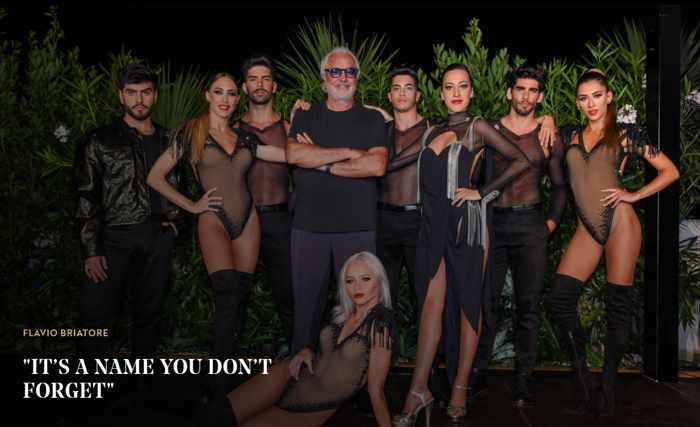 Italian celebrity entrepreneur Flavio Briatore is bringing his exclusive Billionaire lifestyle club to Mykonos this summer. Famous for its "extraordinary artistic performances with a superb dining experience," Billionaire will operate in an elegant mansion in the Lakka district of Mykonos Town. The opening date has not yet been announced.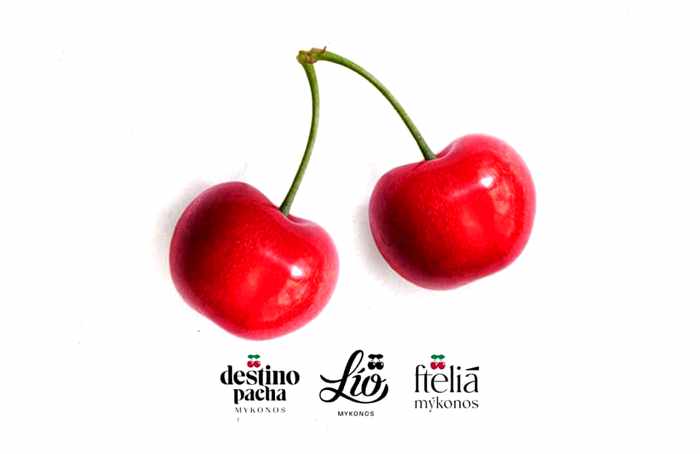 The Destino Pacha group is expanding its Mykonos presence in 2022. Last year, the Destino Pacha Mykonos Hotel opened near Agios Stefanos beach, followed by the Lio Mykonos restaurant and entertainment club in Mykonos Town. This summer, the brand will be opening a club at Ftelia beach. A June opening is anticipated, but no further details are available at this time.
.