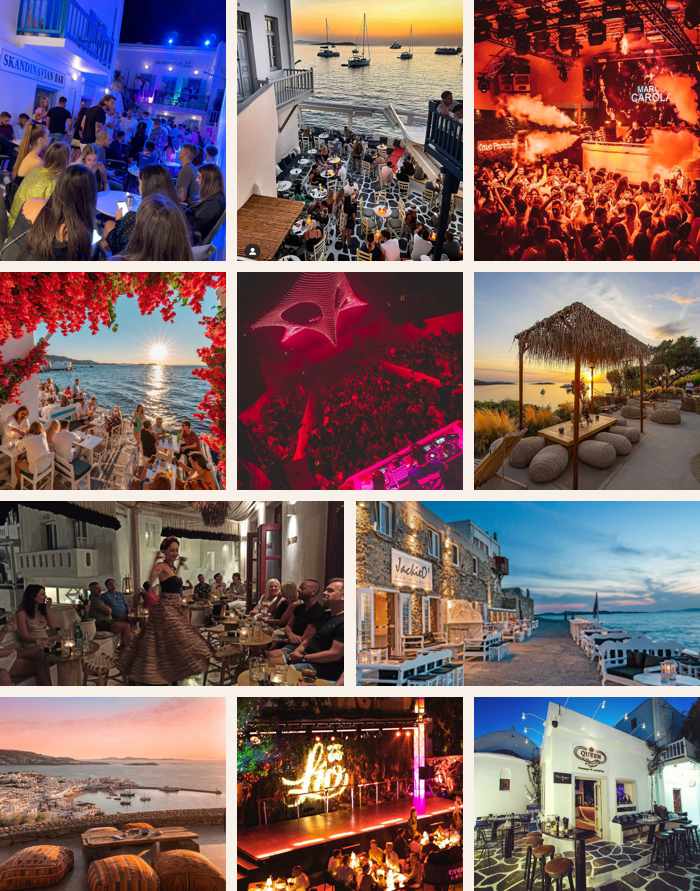 Some of the popular cocktail bars and party venues on Mykonos, from top left: Skandinavian Bar; Semeli Bar; Cavo Paradiso; Negrita; Void club; The Garden of Mykonos; 54 cocktail lounge and sunset bar; JackieO' Town Bar; 180 Sunset Bar; Lio Mykonos cabaret; Queen of Mykonos.
What's open: After two years of Covid lockdowns and restrictions, fun seekers from around the world will be flocking to Mykonos in 2022 to chill, dance and party — and put the pandemic behind them.
Although summer is still months away, the infamous Mykonos party scene is already warming up.
Island residents have been getting into the party mood all this month (March), starting with DJ and live music events during the Carnival weekend of March 4 to 6, and really revving up during the March 24 to 27 holiday weekend celebrating Greece's Independence Day.
Promenade, Paloma, Mosaic, Velanos, El Burro, Wild Cafe-Bar and Vegera have been among the party hotspots during winter and early spring, hosting weekend bashes with DJs and live music entertainment. Cosi Bar and La Barran followed suit the last weekend in March.
With tourists arriving on the island much earlier than in pre-pandemic travel years, other Mykonos bars, lounges and nightclubs have begun announcing their opening dates, also much sooner than usual. 180 Sunset Bar and JackieO' Town Bar will be opening in April, followed in May by JackieO' Yacht Club and Cavo Paradiso (which has already revealed the DJ lineups for its three opening week parties in May, as well as the dates for two summer appearances by Vintage Culture). Sanctus club will open June 1.
In this post, we'll spotlight the cocktail and nightlife spots that have already opened, along with places that have indicated when they will be launching their seasons.
We're expecting more opening day announcements to come soon, so check back for updates — we will add other bars and clubs once they reveal their plans.
We will provide beach club opening dates in a separate blog post.
Bars and party spots open since winter and early spring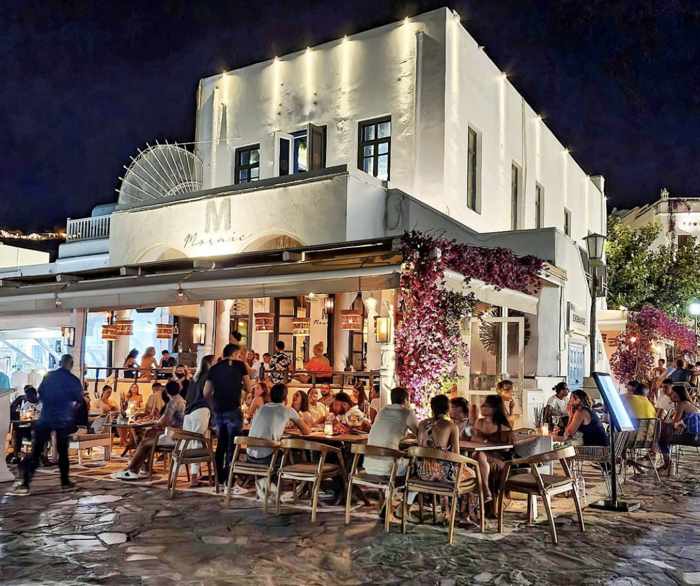 Mosaic restaurant and bar, situated next to Manto Square on the Mykonos Town harbourfront, is open all year and has been hosting parties and special events throughout the winter and early spring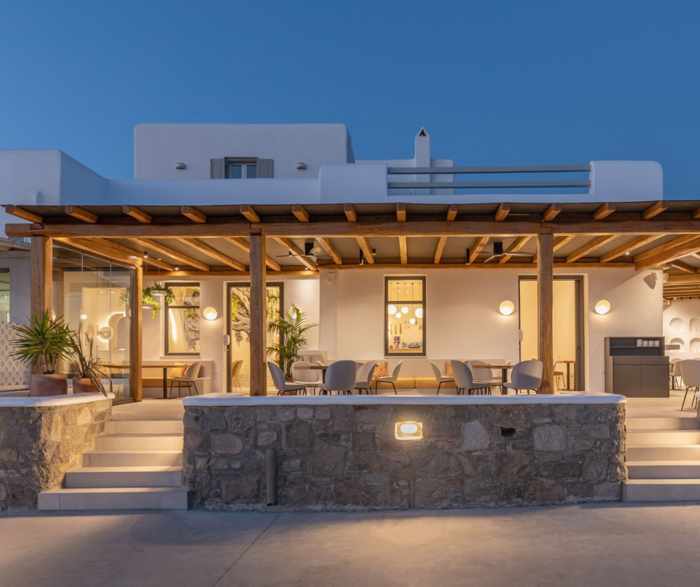 Velanos restaurant was a new arrival on Mykonos during the 2021 season. It has stayed open throughout the winter and has hosted numerous parties and special events, including a weekly Sunday Greek Vibes party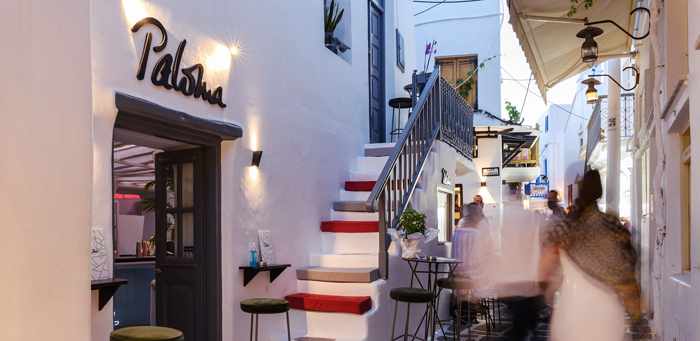 Paloma Bar on Kouzi Georgouli Street has been open every Friday and Saturday night since February 18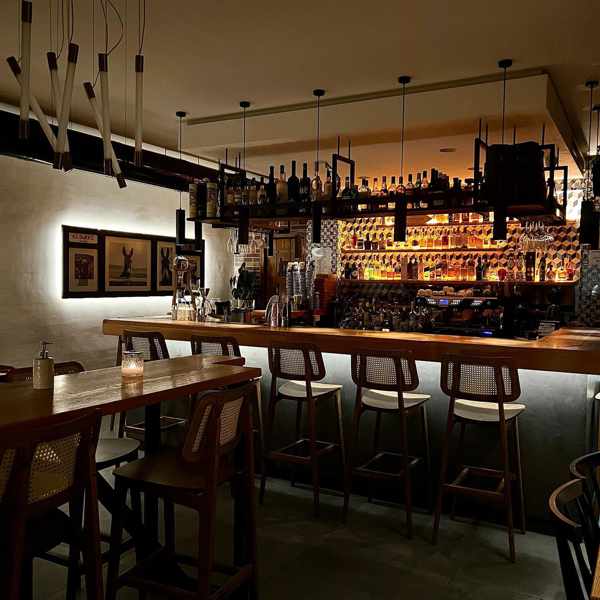 During winter, El Burro Mykonos cafe / bar / restaurant has been open Tuesday through Sundays from 6 to 11 pm, and has hosted occasional weekend party events with DJ entertainment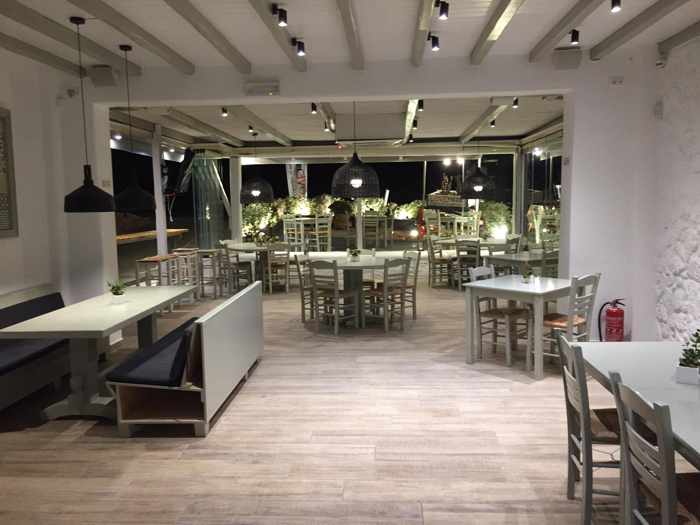 Lovemeze restaurant has kept its doors open throughout the off-season, and has hosted regular events featuring live Greek music entertainment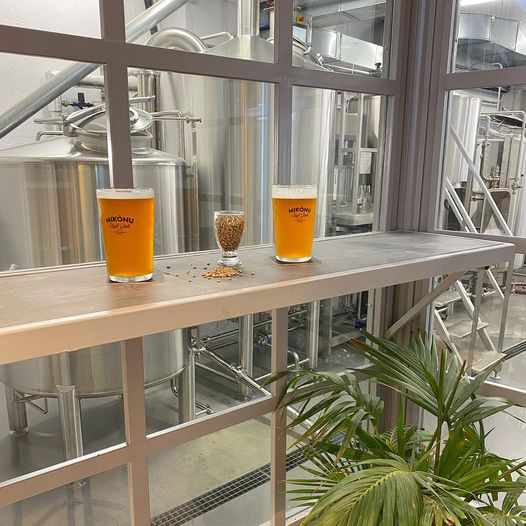 Since March 1, the Mykonos Brewing Company taproom has been open for tours and tastings of its locally-brewed Mikonu craft beers. Located in the Argyraina area (on the road from Mykonos Town to Ano Mera), the taproom is open Mondays through Fridays from 11 am to 5 pm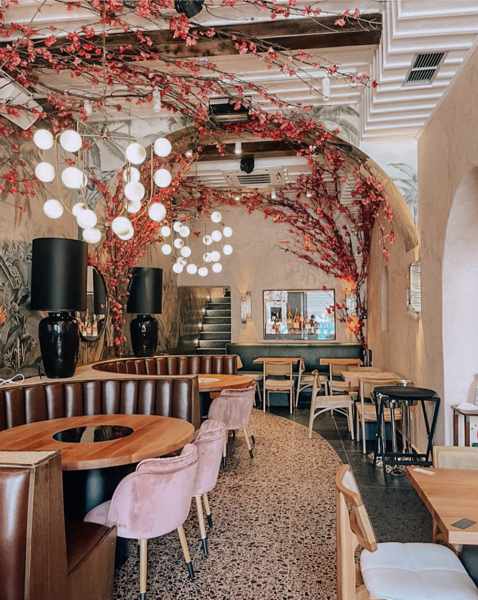 Promenade restaurant and bar, located on the Mykonos Town harborfront promenade, opened March 4 and has been hosting regular parties with DJs plus special live performances by popular Greek singers and entertainers including Tilemachos Zeis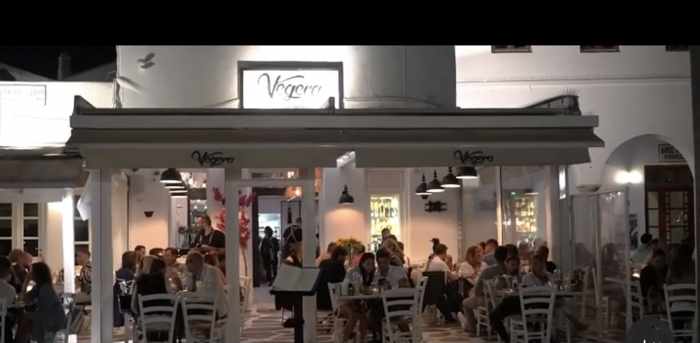 Vegera restaurant and bar, located on the Mykonos Town harbor promenade, opened on March 4 and has been hosting weekend parties with live DJ music entertainment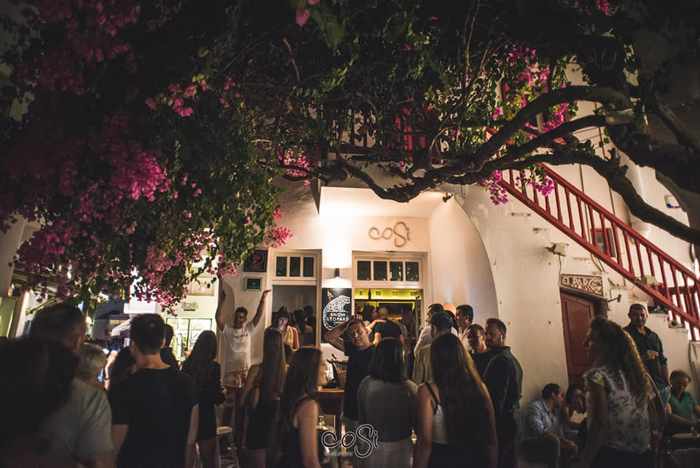 Cosi Bar opened during the March 25 to 27 Greek Independence Day holiday weekend. It's located on Ματθαίου Ανδρόνικου street in the Matogianni shopping and restaurant district.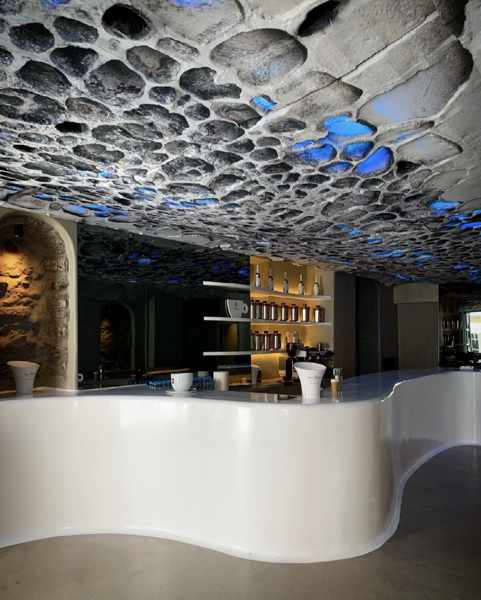 After a winter break, La Barran bar re-opened in time for the March 25 to 27 Greek Independence Day holiday weekend. La Barran is located on Enoplon Dinameon street.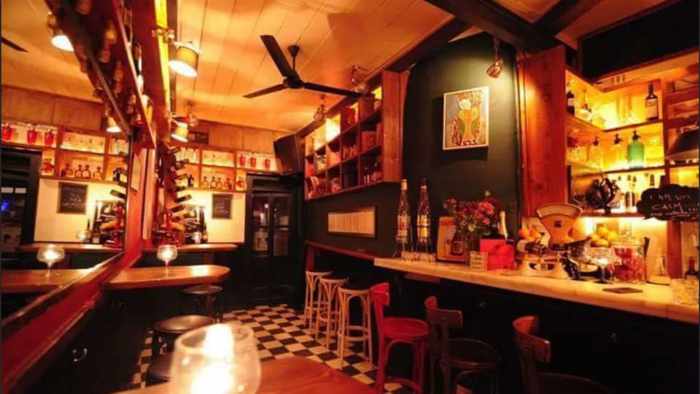 During winter, Toro loco my bar myconos on K. Georgouli Street in Mykonos Town has been open on Thursday, Friday and Saturday nights starting at 8 pm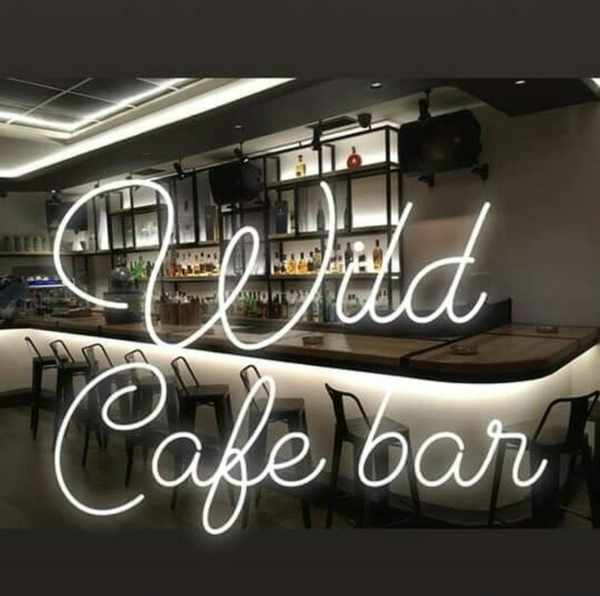 Wild Cafe Bar in Ano Mera has been open during the winter, and has been hosting special DJ and live music party events on occasion
April openings and events
DJ Anestis Menexes will play a set at Promenade on April 1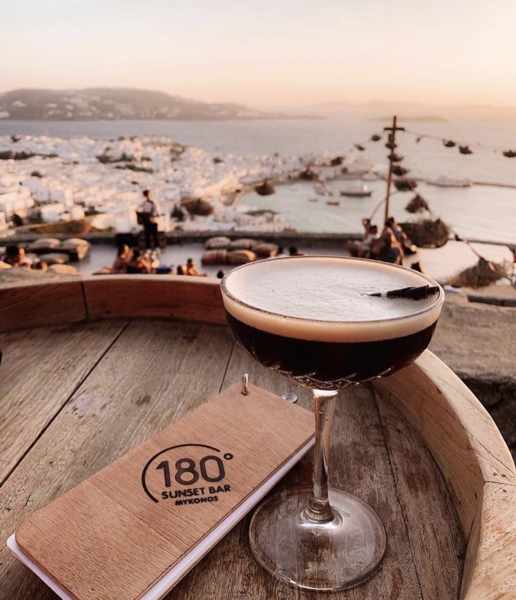 April 11 is opening day for the most popular spot on Mykonos for evening cocktails — 180 Sunset Bar. The bar recently announced that it has appointed Thodoris Papanikolaou as executive chef, and said he will be developing new menu items "from whatever the Greek land and the Aegean Sea provide." The bar is now taking reservations through its website and social media pages.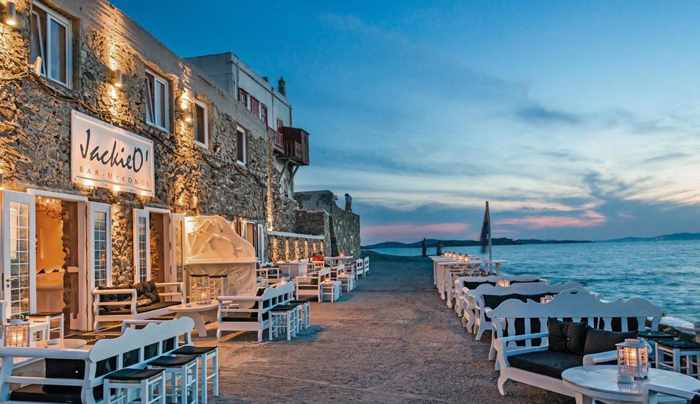 JackieO' Bar returns on Friday April 15. It's located on the Mykonos Town seafront, just around the corner from the Mykonos Town Hall.
May openings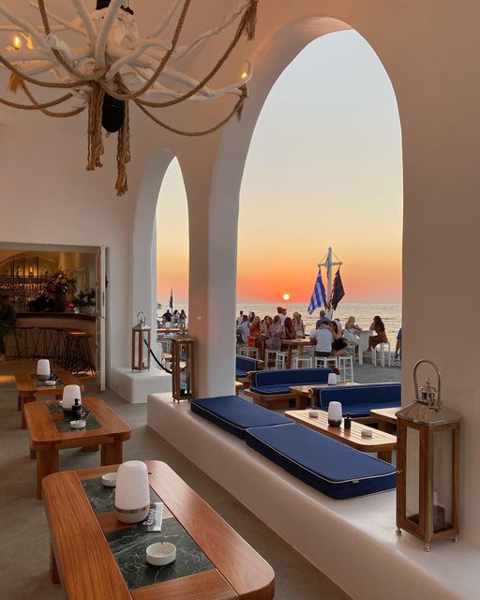 A new arrival last year, JackieO' Yacht Club returns for its second season on May 13. It's situated right next door to JackieO' Bar on the Mykonos Town seafront.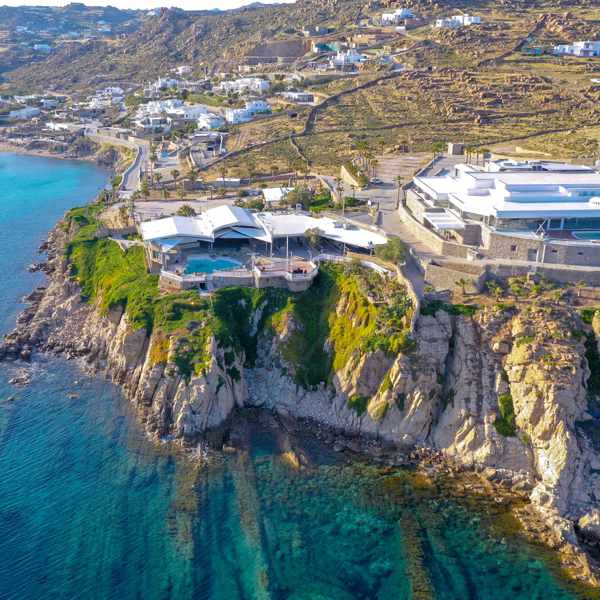 Saturday May 14 is opening night for Cavo Paradiso, the most famous party club on Mykonos. It's located atop the cliffs at the far left side of Paradise beach.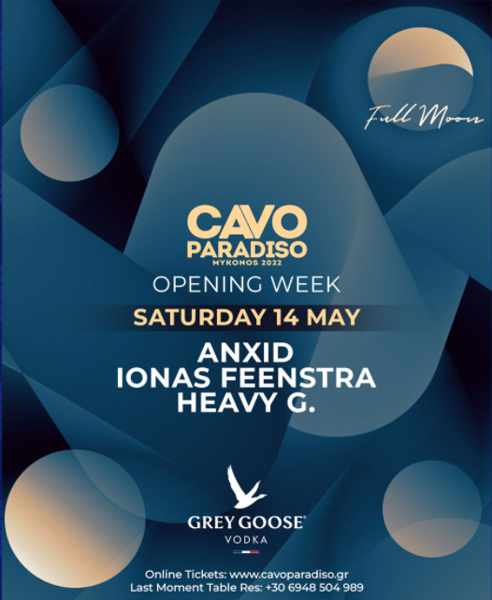 Cavo Paradiso holds its 2022 opening party on Saturday May 14 with DJs AnXid, Ioanas Feenstra and Heavy G on the decks
DJs Terry and MaPet will play for the second party of the 2022 season at Cavo Paradiso — on Saturday May 21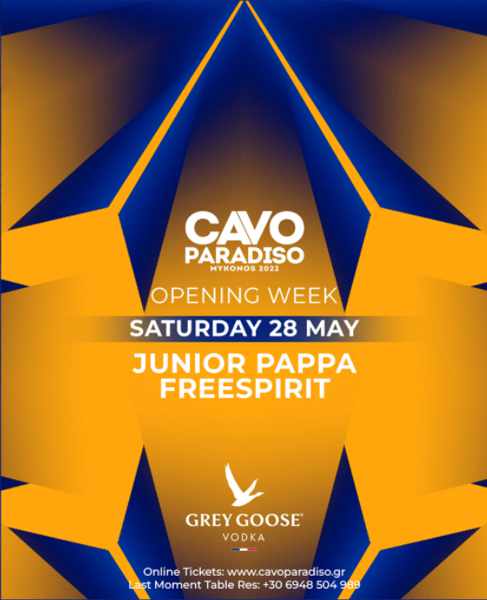 DJs Junior Pappa and Freespirit will be playing for Cavo Paradiso's third party of 2022 — on Saturday May 28
June openings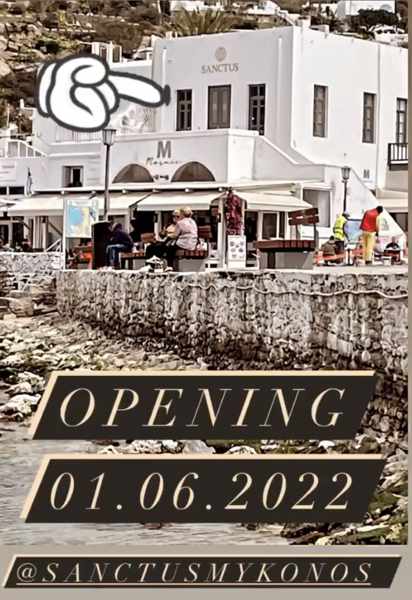 June 1 is opening night for Sanctus club in Mykonos Town
Summer events already announced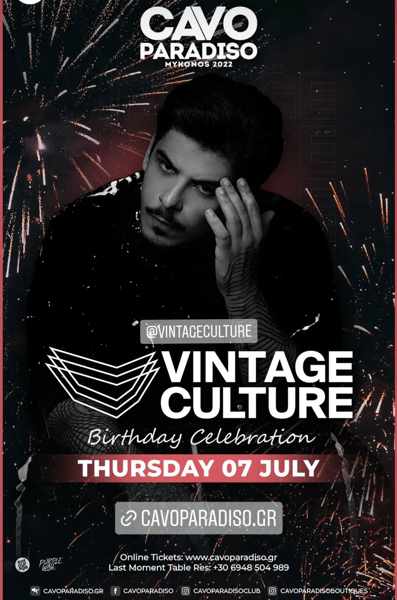 Vintage Culture is the headline act at Cavo Paradiso on Thursday July 7
After a two-year hiatus due to Covid restrictions, the annual XLSIOR Festival returns to Mykonos. The week-long event is set for August 17 to 24 with night and day parties at major venues around the island. Acts and events have not yet been announced.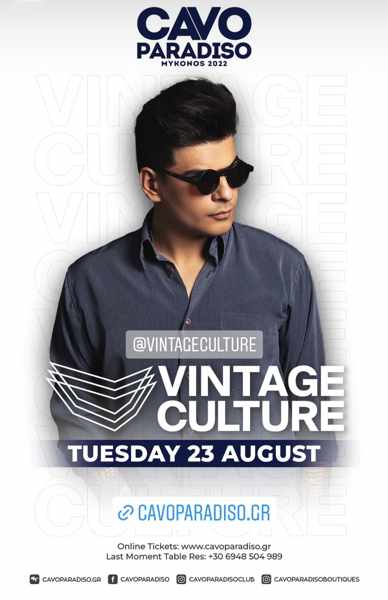 Vintage Culture makes a repeat appearance at Cavo Paradiso on Tuesday August 23
.